Copied from other site.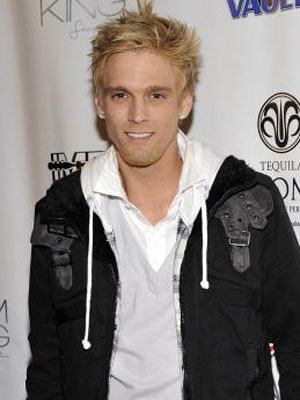 I saw Aaron Carter in concert for the first time in July of 2000. I was six years old, just out of kindergarten. He packed the arena with pre-teen girls, who had screams so high pitched I thought I might never hear again. Almost eleven years later, at age 17, I found myself standing in a crowd of twenty-something girls, with the same high-pitched screams, waiting to see Aaron Carter.
The "I Want Candy," and "That's How I Beat The Shaq" singer has stayed out the limelight for the past few years (except for a stint on Dancing With The Stars in 2009) working on some new tunes. I got to see an exclusive performance of his new music, and hear the dish about his time in the recording studio, his advice to Justin Bieber, and DWTS!
"Wow, there are a lot of pretty girls in this room!" Aaron gushed to the crowd as he walked on stage for one of his first live performances this year. With his radiant white smile and signature blond hair, he's still the same Aaron Carter you had a poster of on your wall in second grade.
Aaron's sound hasn't changed either. He's still keeping with the pop-dance vibe, and his moves are just as incredible as they've ever been. At one point during the intimate concert, he did a flip right in the middle of one of his songs (and I'm telling you…this stage was SMALL). The energy of his performance felt a little like another blond boy with undeniable star-power: Justin Bieber. "I would love to work with the Little Biebs," Aaron joked, "All of the hard work he is putting in, I worry about that all the time, and I hope that he's not being taken advantage of by the people around him."
Up next is new music. Aaron's been working hard in the studio mastering producing and songwriting, and by his performance, it felt obvious he's really excited about the new stuff. There is no set release date yet, for the album, but he promises it will be coming soon and he will be definitely be playing more shows!
If he happens to be stopping in a city near you, I would definitely recommend going! Even if you aren't familiar with his new stuff…he may just have some "Candy" in store!